Competent - Personal - Professional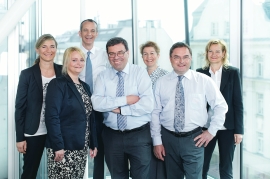 Our consulting projects demand a broad spectrum of professional competencies. The foundation for this is a solid education, continued education and, above all, a lot of experience.
However, consulting also requires analytical, networked and strategic thinking, creativity and the courage to proceed in a new direction.
For the professional competence to be put into practice, methodological competence, persuasiveness and appropriate empathy are required.
It is a matter of stimulating a person's interest and motivating him. Proposed changes can only be successfully implemented, if the people involved contribute their knowledge and experience and if they are prepared to take a new road.
An effective and efficient procedure is in the interest of everyone, who participates in a project. A focus on decisions and practical implementation, as well as professional project management, help to avoid unnecessary waste of resources and to reach the goal successfully.
We are very happy that many of our customers have become longterm business partners. They value the results of and style of our consulting services: competent, personal and professional.